17 Nov

Business Central Directions EMEA 2022 Hamburg

A new Directions EMEA was held in Hamburg this 2022, where Mike Morton, the Microsoft leader in charge of managing Dynamics 365 Business Central, reviewed the history from when Microsoft acquired Navision twenty years ago to its evolution in its current moment. He thanked all those present for the success of this solution, which has gone through different changes of names and logos, from the days of Navision and Dynamics NAV to the current Business Central in the cloud, but which tries to maintain the same values: to help SMEs in optimizing their day-to-day.

In the first keynote, Microsoft provided a variety of examples of the ways they hope to integrate Business Central with other Microsoft products, including Dynamics 365 Sales, Power Automate, Teams, Excel and Power BI. Undoubtedly one of the big opportunities of the moment for Business Central has to do with integration, with Microsoft suite products and external ones, such as the connector that was introduced for Shopify a few months ago.

Undoubtedly one of the news that excited us the most was the announcement that the release 1 of 2023 will improve the Shopify connector, in the sense that it will allow to manage returns and will add the possibility of extending it through code.

At this event attended by almost 3000 people in Hamburg, they also announced the reorganization of the Business Central marketing team, where they promised more collaboration between productivity and business applications.
Business Central is Microsoft's fastest-growing business application
The SMB segment is the fastest growing segment within Microsoft's business application portfolio, and Dynamics 365 Business Central is the flagship product, with "triple-digit" year-over-year growth. The Microsoft team stated that the SMB customer base has grown 60% in the last year.
The Microsoft team at the event also showed how Business Central has reduced customer service requests, which are well below the monthly growth rate of active users. This means that it is a stable and scalable product.
Another important point is the continued international expansion with support extended to over 100 countries. Mike Morton announced that to continue adding regions, Microsoft will work with other partners to introduce more localizations. This geographic expansion continues to be "critical" because Microsoft understands that Business Central customers work in all countries and regions and is increasingly looking to help customers who have international offices worldwide.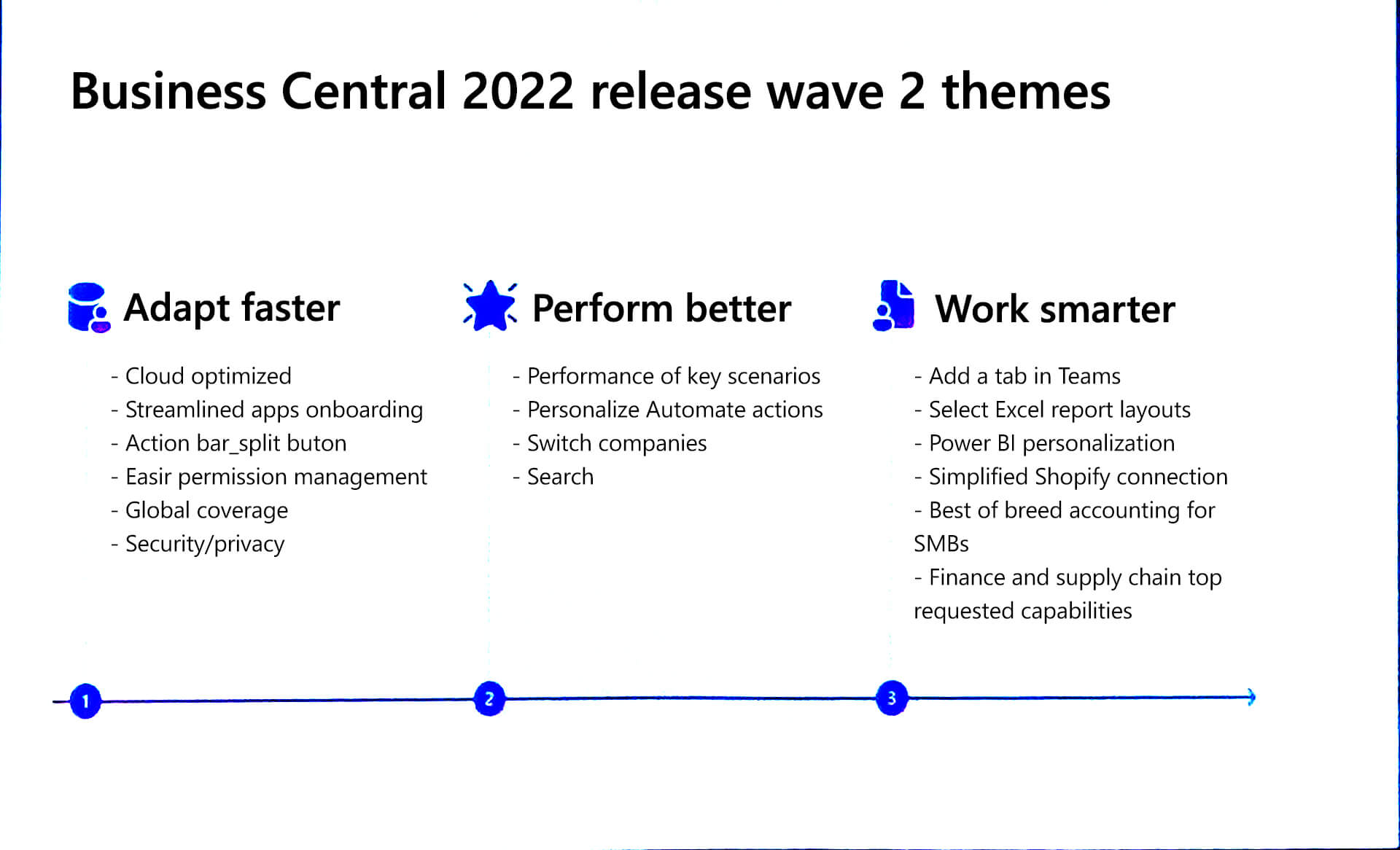 More automations in the Business Central world
Microsoft also showed improved interaction between BC and Power Automate. Microsoft had previously demonstrated the ability to add new menu items to create or start a flow from the ERP interface. But this interface will now also support the display of a specific flow such as a menu item as part of a customization. This is because Power Automate actions can be included as Business Central's own extensions.
The practical translation? We will be able to go much further with Power Automate to achieve a much higher degree of automation of ERP tasks and other solutions.
Business Central within Teams
Microsoft has opened a new but "read-only" access to Dynamics 365 Business Central data by launching a Teams interface for Microsoft 365 users without an ERP license. This is a big, long-awaited announcement!
Now a Microsoft Teams user will be able to access Business Central records without a Business Central license. Those new users, who only have a Microsoft 365 license, will get a special read-only view of ERP data, shared with them in a Teams chat or channel by a Business Central licensed user, this entails that they will have specific limits on the type and format of information they view.
Customers who have upgraded to the latest version of Business Central SaaS can enable the feature. Business Central administrators will maintain control over who has access to what data and views they want to make available through Teams chat or specific channels.
Teams read-only access is designed to give people specific views of data, for example a particular segment of purchase order or item data. Permissions will be critical for new "read-only" Teams users to begin viewing Business Central data.
The introduction of such "read-only" users now expands the range of possibilities for the Business Central user experience. Microsoft will also offer a Business Central Team Member license, with full access to the user interface, full read, limited write and no access to manufacturing or service order management. And typical Business Central Premium and Essentials licenses already provide full access options, albeit with access to additional modules for Premium.
We will study this news in more detail in order to offer you a specific blog with all the details.
Performance Toolkit
Performance Toolkit, will be an extension for Visual Studio Code, which will be available from Visual Studio Marketplace in December 2022 for developers.
Simulate multi-user and realistic job flows to track scenario performance
Very easy to configure and run set-up
Use in online sandbox and docker environments
Detect performance issues early as user volume grows
We will be able to start testing with test examples
Community awards
And the community awards were not to be missed! Awards given to partners for their ideas in both technical and commercial aspects. This time Triangle was among the nominees, in the Commercial idea category, for contributing ideas to this growing community.
It was also the first time that the Women in Dynamics Awards were presented, an initiative that began last year to give greater visibility to inclusion and diversity within the Dynamics community, of which Triangle was a driving member.
Business Central is used as a model for SMB success at Microsoft, Morton told the Directions EMEA audience. Asked by other managers with SMB-focused products what the formula for Business Central's success is and whether it can be replicated, he says he always responds that it is thanks to the great partner ecosystem that this community has.